You'll hear many reasons people quit their jobs: raising their children, going back to college, moving to another city, finding a better career—to name a few. But aside from these, other factors can also trigger employees to leave their jobs and some of them may surprise you. Check out this article and infographic to learn more.
7 Reasons People Quit Their Jobs You May Find Surprising
Developing a toxic relationship with their boss causes some to quit
Finding their work unchallenging drives a few to resign
Forming issues with their colleagues pushes some employees to leave work
Failing to use their abilities in their position or line of work triggers others to look for another work
Feeling they don't belong anymore pokes some to let go of their job
Seeing the company culture or work environment in a negative light dismays some and leaves work
Viewing the company's financial standing as unstable pulls some workers away from their jobs
Some of you may still have weirder or more surprising reasons for resigning from work. However, whatever they may be, you can always share them with family and friends who understand what you're going through. Just tell them how you feel about or find work and you may benefit from their past experience or advice.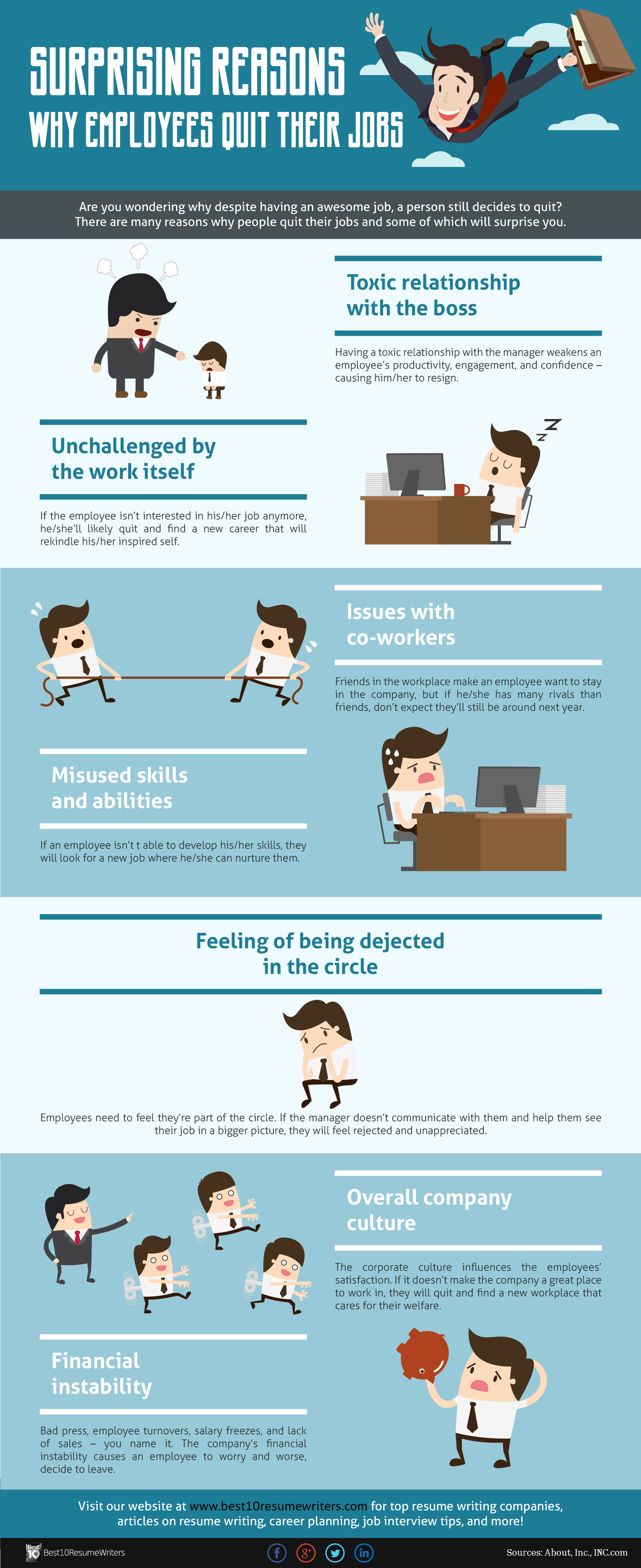 So, can you relate to the above reasons people quit their jobs? Before writing your resignation letter, think things first thoroughly. Further, quitting your job should always be the last option, but if you insist on growing your career at a new workplace, start it right by finding a perfect job search partner.
Our list of 10 of the best resume writing companies will ease your job search game. Read each review and choose one that will help you secure a job interview in your dream company. Have a great job search experience!
Do you want a copy of what you've just read? Click here.