It has been over a year since the economic downturn and health hazards that hindered every job seeker's career move. Gone are the days when job seekers were encircling job postings in the classified ads section. Now, with one search, you can compile and list telecommute and local openings. With hundreds of thousands of job opportunities open across different job hunting sites, it's difficult to pick among the best job search sites out there.
Most sites have listings and additional resources such as career coaching, resume tailoring, and blog posts full of helpful tips. To find the best job websites to kick off your search, we've looked at more than two dozen different job websites before selecting the top 10.
List of 10 Best Job Search Sites
As a job seeker, time is of the essence when applying for your target position. That said, make the most of your time reading company reviews and selecting the job search site with jobs you are interested in and qualified for.
With our list, you will have an idea of the right type of jobs available in your industry. We will also provide you tips to increase your chances of landing an interview after you apply. If you are ready to rejoin the workforce and looking for the best job searching websites this year, read on to narrow down your selection.
As you look at the list below, keep the following in mind and choose a general or niche job sites.
Being the most well-known job search website, Indeed takes pride in taking the title for the best overall job website. As one of the largest job search websites, it boasts of 250 million monthly users and a wide variety of industries to which they cater.
Indeed is completely free for job seekers, and there is no need to create an account. Signing up for an account, on the other hand, will enable you to receive job alerts when new positions are posted, upload your resume to expedite the application process, and receive communications from recruiters and potential employers.

As one of the best job search sites online, Glassdoor provides anonymous corporate reviews as well as job listings. You'll also get quick access to company reviews and salary information to help you assess the organization before applying.
To begin your job search, create a profile, submit your resume, and sign up for email alerts to receive curated lists of employment opportunities. You can also use the site's search engines box to look through active listings. Each job ad includes information on the position and how to apply, as well as company reviews and anonymous ratings.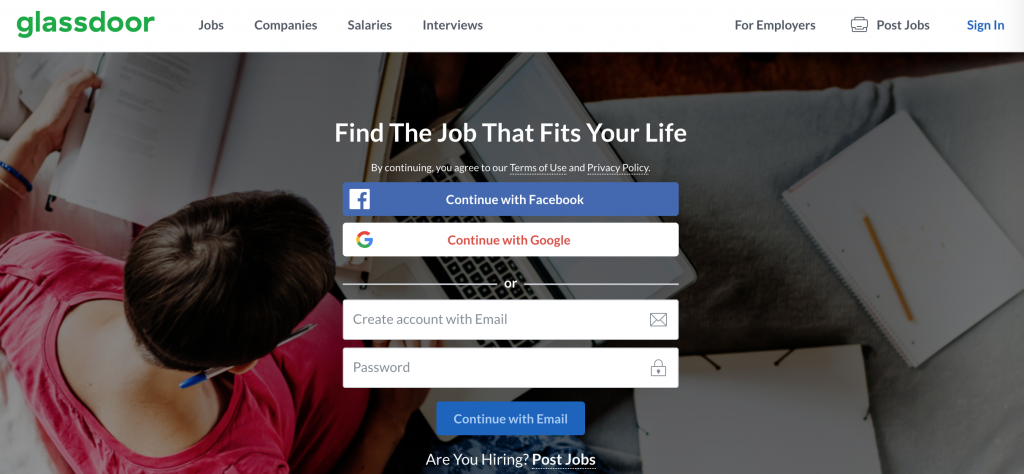 Monster, like Indeed, caters to job seekers of all levels of experience and work types. These include freelance, temporary, part-time, and full-time. It also offers free job search tools.
To apply to any job post on Monster, you must first establish an account using your email address, which takes less than a few seconds. You can search for jobs by skills, title, function, industry. You may also choose by company or recruiter.

Google collects job ads from all over the internet, whether they're from small-business websites or job boards with hundreds of entries. This makes it simple for job seekers to locate their next position in Search.
It is more than just a job board, because it's a job search engine that pulls job postings from a variety of places, including other job search engines; then displays them in your Google search results. This can save a lot of time and help applicants find employment. Users can refine their job search by job type, location, company type, date posted, and other factors.
Best Job Search Sites: Niche Job Boards
To assist you narrow your search, some job search sites offer a selection of specialist or niche employment boards. You may focus more carefully on jobs in your sector or occupation by using specialty job search websites. Companies offer job openings on a variety of job-search websites.
HigherEdJobs is the most comprehensive source of academic employment and career information. This site is used by more colleges and universities to hire academics and administrators than any other source.
Ranking among the best job search sites today, HigherEdJobs claims that more than 1.5 million higher education professionals visit their site each month, relying on not just the extensive job listings, but also on its news and career advice. Hence, no matter what institution you're looking for or wish to work at, you'll find it on HigherEdJobs, from small liberal arts schools to big public research institutions.
Idealist is a nonprofit organization based in New York. Over the years, this job search site is connecting people and organizations. Nearly a million jobs and hundreds of thousands of internships and volunteer opportunities have been posted to assist people in furthering their social impact careers.
Idealist's job board is categorized into jobs, internships, and organizations. Aside from being the best job search site for a career in the non-profit sector, they also provide career advice and grad resources.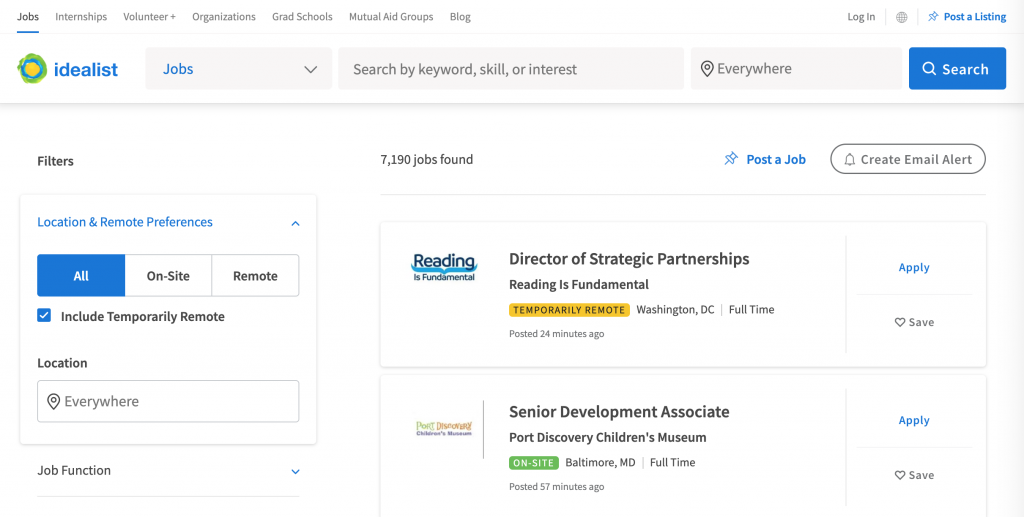 The federal government offers a variety of recruiting opportunities to help find people who reflect a varied community. You may apply for agencies and get email updates on positions you're interested in with USAJobs. Recruiters browsing the site's database will be able to see your resume. With a comprehensive USAJOBS profile, you can only apply online.
If you go to their website and are ready to find a job, create an account through Login.gov. It provides safe and private access to government programs such as federal benefits, services, and applications through the internet. You may use the same email address and password to sign into various federal websites with a login.gov account.
Other Job Search Sites
FlexJobs is an online employment board for those looking for jobs that are remote, home-based, freelance, or flexible. Jobs come from a variety of places, including corporate websites and job agencies. This job search site offers a better approach to locate a new sort of job if you're looking for something different. The portal, which was founded in 2007, advertises hundreds of remote, flexible, and home-based employment.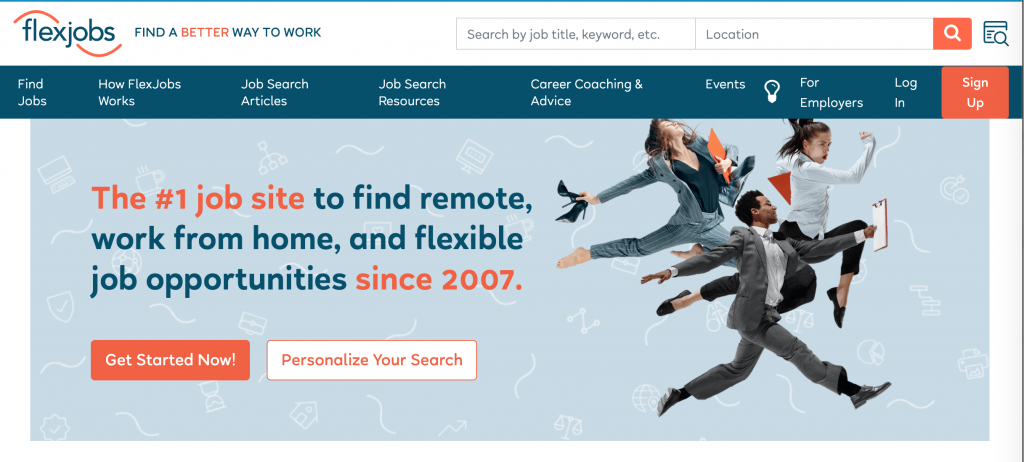 CareerBuilder has a comprehensive range of offerings that are in line with job seekers' and employers' specific needs with flexibility and cost-effective solutions. They boast of having data that enables companies to recruit the best people, universities to provide the best programs and put students on the route to a successful career, and economic and workforce development.
When you post a job on CareerBuilder.com, employers are advertising on the nation's fastest-growing employment board. Not only are they attracting more job searchers to their site; 80% of their applicants have the skill sets required for the most in-demand jobs.
Are you looking for a job that pays by the hour? Of all the best job search sites, Snag focuses on non-salaried employment.
Snagajob has risen to the top of the online hourly employment marketplace since 2000. Hourly positions in healthcare, customer service, hospitality, retail sales, security, and food delivery are the most common on Snagajob. Job searchers may use the site to look for distant or local positions. Snagajob can be considered as the top site for hourly job searchers because of the amount of postings and easy-to-use interface.

Tips for Using the Best Job Search Sites
It's difficult to find the right career opportunities and to stand out among the pool of candidates. Fortunately, there are several tools and tips available to assist you in finding your dream job more quickly and simple than ever before. Here are a few tips to help you with your job search.
1. Search for the right job.
Use keywords that match your interests and the place where you wish to work to locate jobs utilizing job search engines. Narrowing your search parameters will save you time, assist you in concentrating your job search, and provide you with highly relevant job listings to evaluate.
You may position yourself to enhance your chances of being found by hiring managers if you know where firms are looking for applications.
2. Be updated and go mobile.
Once you've chosen which of the best job search sites make the most sense for your circumstance, install their mobile applications on your phone or tablet. This will make it much easier for you to put your spare time to good use. After you've done this, you'll be able to look for job openings quickly and simply whenever you have free time, such as waiting for a doctor's appointment or standing in line.
3. Make use of advanced search feature.
Reviewing and applying for job openings might take a long time. With this in mind, you may save time and obtain better results by using the advanced search options on the best job search sites.
When using a job search engine, check to see whether it has sophisticated search capabilities. Some websites include a menu choice where you may locate the advanced search option, while others may be more difficult to find.
4. Add your LinkedIn profile to your resume.
To make your resume stand out to recruiters, provide a short and distinct LinkedIn URL. Instead of utilizing the letters and numbers that LinkedIn provides to your URL, change it to include your name and the professional sector or job title you wish to pursue.
When recruiters are looking for you, LinkedIn will help recruiters to find you online. Including the URL on your resume and curriculum vitae will enable recruiters to visit LinkedIn and learn more about you.
Related post: Online Job Applications: Your Comprehensive Guide to Landing a Job
Be Visible on LinkedIn: Time to Update Professional Profiles
When you're conducting a job search, you need to make it easy for employers to find you online. Create profiles on professional networking sites such as LinkedIn and others. If possible, make the URL your name. When recruiters, employers, and contacts look for you online, such profiles generally rank high, so you'll give them a strong, favorable, and professional image of you as a candidate they should consider.
Related post: Tips to Optimize LinkedIn in Job Search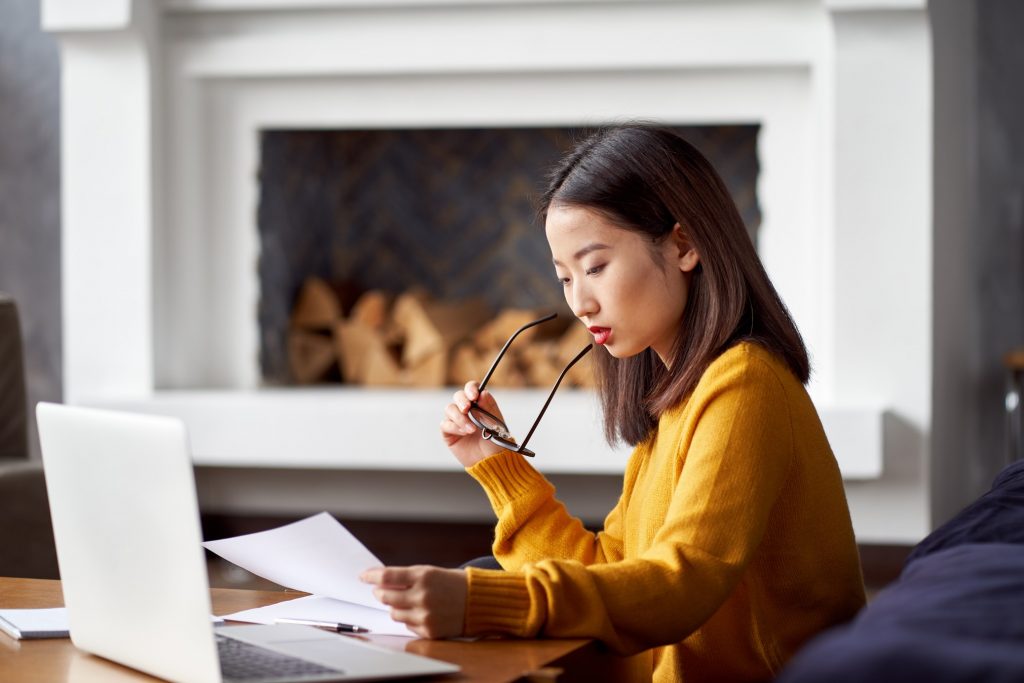 Update Your Resume Before Checking the Best Job Search Sites
There are many methods to get your resume in front of the right recruiters, and doing everything you can to get yourself out there is your greatest opportunity for success. Posting your resume on numerous job search sites is one of the easiest things you can do to improve your chances of finding your next job.
Where you distribute your resume after examining all of the finest resume sites is mostly dependent on the sort of job you're looking for. In today's world, the quality of your resume counts far more than the number of sites to which you submit it, so make sure it's the finest it can be before submitting it.
The first step in getting employed is to get your resume in front of employers' eyes. All of these websites can assist you in doing so. It's a good idea to double-check that your resume is up-to-date and formatted appropriately before posting it on various platforms. If you want assistance with your resume, we recommend contacting one of the best resume writing services online!