Now is the best time to ace that federal job hunt. According to the Office of Personnel Management, there is an estimated 2.1 million federal civilian workers, not counting other federal agencies. Do you want to belong to the 2-million-strong industry? Apart from steady job outlook and security, federal workers receive a higher pay grade than the private sector.
Are you up for a bright future? Then leave the daunting task of writing your federal resume to the experts. Focus on your job interview instead. This way, you heighten your chances of landing the job. Who wouldn't want that, right? Hence, Best 10 Resume Writers listed the top resume providers in the country just for you!
Discover a variety of top resume writing services and check out whether their deals and offers can help you achieve the job you dream of. Make most of your career and hire the best services. Let our list help you assess each company's perks and fails and the crucial details you shouldn't miss.
Full Review of the Federal Resume Writing Services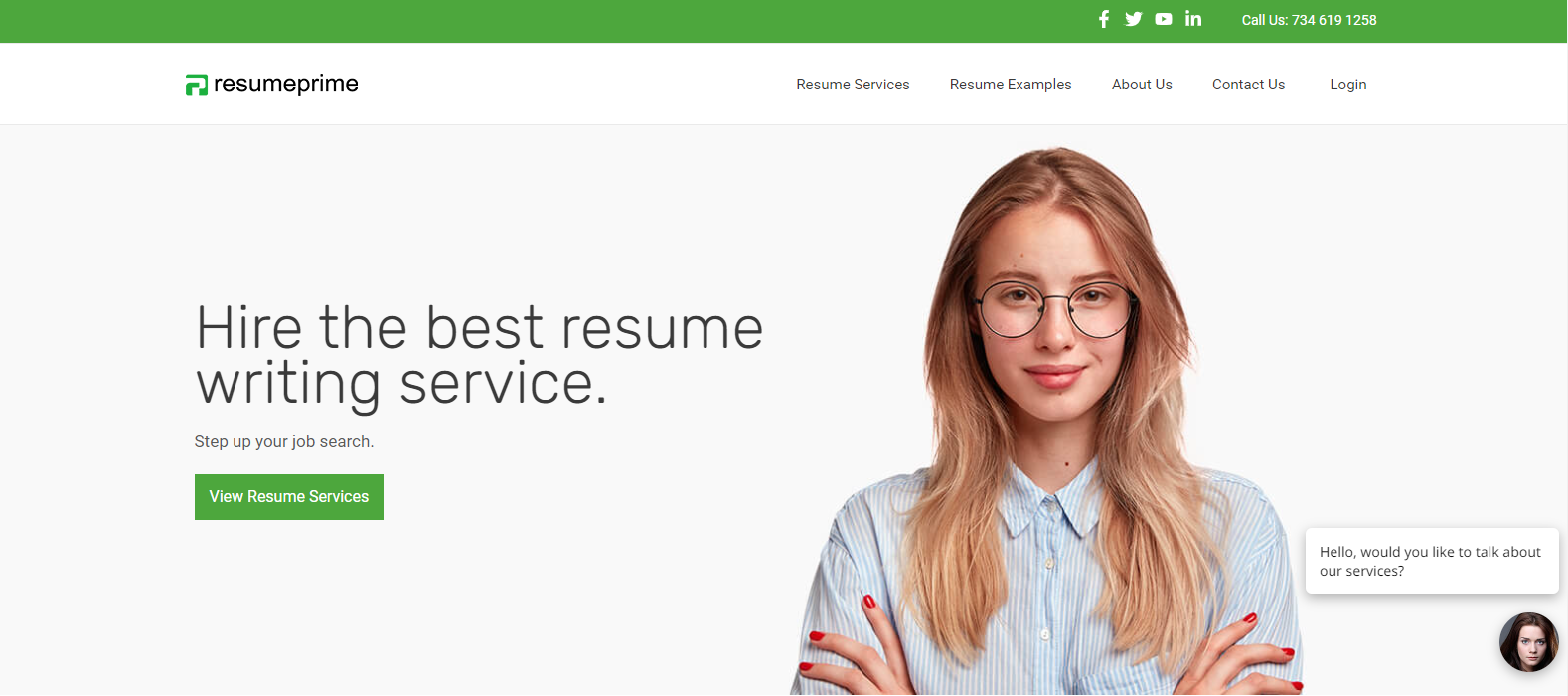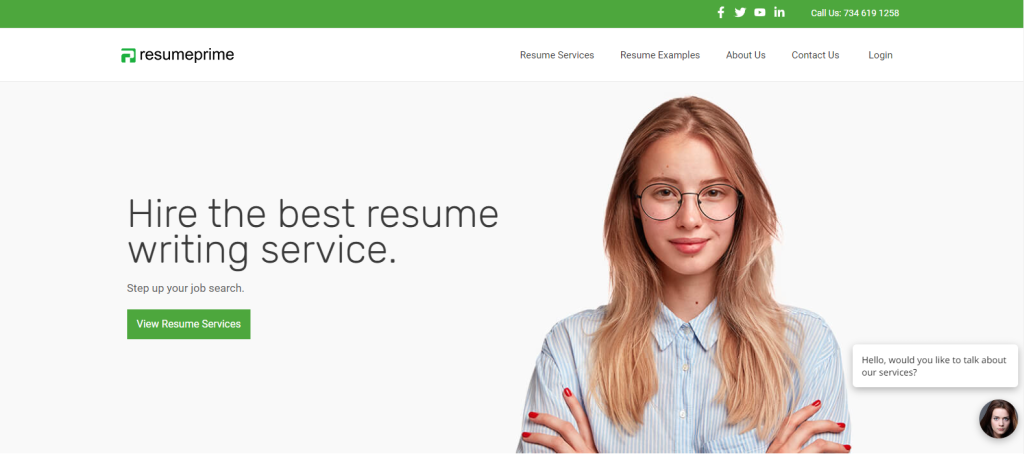 Resume Prime offers top-rated resume writing services. That's why this team of resume pros got the top spot! This resume firm has a knack for writing a job search tool hiring managers want. And as for their federal resume, Resume Prime's government application tips will surely help you if you opt to draft or write your own resume.
This firm takes pride in its expert field writers who work to deliver tailored, keyword-rich, and professional resumes. Therefore, if you're looking for a sought-after federal resume company that gets the job done right, hire Resume Prime.
Perks: Upon checking their resume services page, you will see how they apply a no-nonsense approach. Everything you need is on the page: price, process, and previous client testimonials. It's simple, direct, and fuss-free. If you need a quality resume provider, Resume Prime is for you.
Fails: Reviews are part of quality, don't you think? However, this site has limited reviews. Hence, the firm's federal resume experts need to reach out and ask clients to write an online review. If not, it can affect clients who are seeking resume firms for veterans or even military to federal specialists.
Delivery Time: 3 days for the initial draft
Price Range: $190 to $330
Contact: 1 (888) 846 9272
Reviews: 3.6 on TrustPilot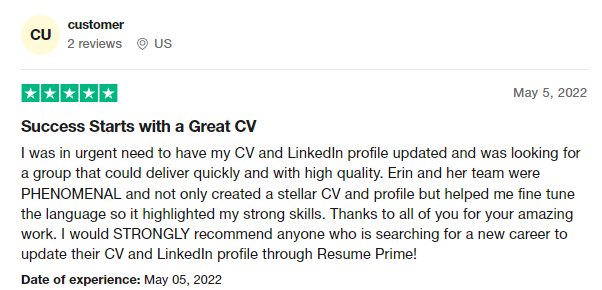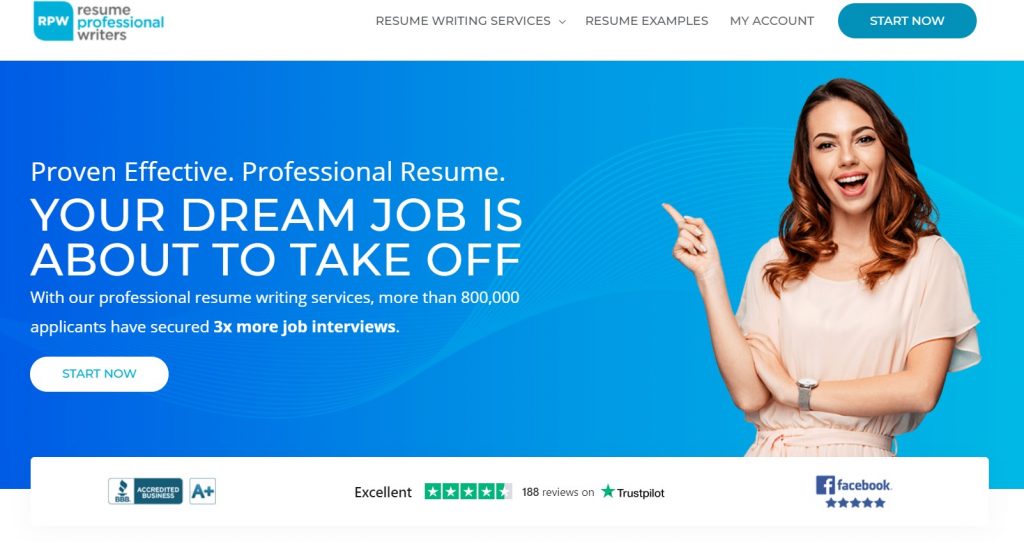 Why choose Resume Professional Writers? They fit the bill on what a federal applicant searches. If you check its website, you'll notice it offers one of the best federal resume writing services as well as add-on writing such as ECQ and TQ. In addition, their resume examples along with the reviews from clients, prove their expertise in the industry.
Perks: If you didn't get an interview in 60 days, this resume company vows to update your resume for free. Plus, they offer free resume review as well as career and job interview tips to help you ace your journey. For questions, choose from chat, phone, or email to connect with a career consultant.
Fails: Need your resume before Monday? Too bad the site doesn't deliver products on weekends and holidays. Instead, its 24/7 hotline works for calls, chats, and emails only. Hence, the quality of its customer service is a point to improve.
Delivery Time: 3 to 5 business days for the initial draft
Price Range: $300
Contact: 1 (800) 845–0586
Reviews: 4.4 on TrustPilot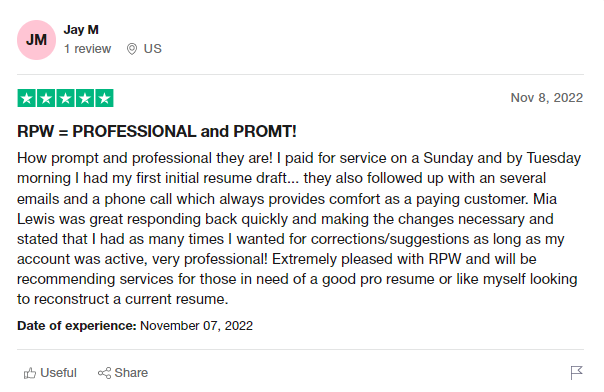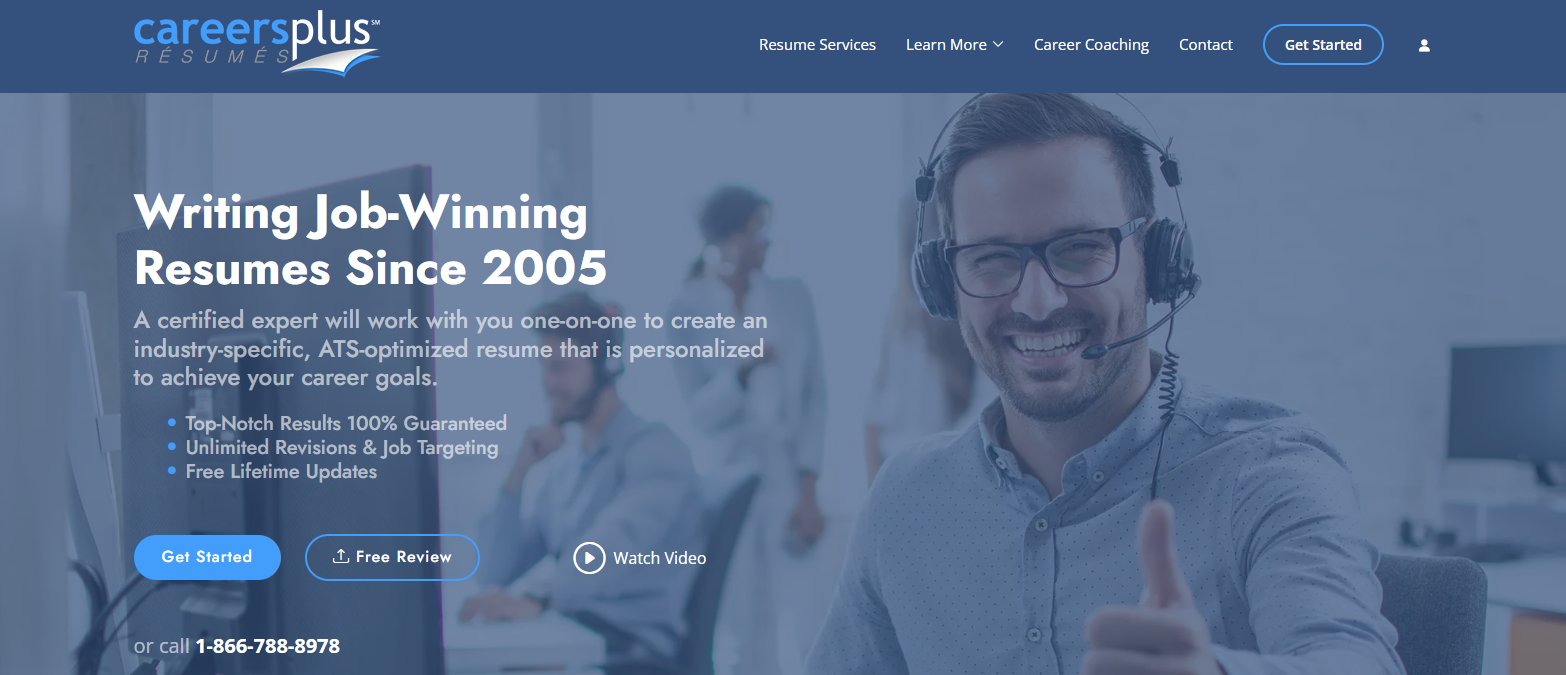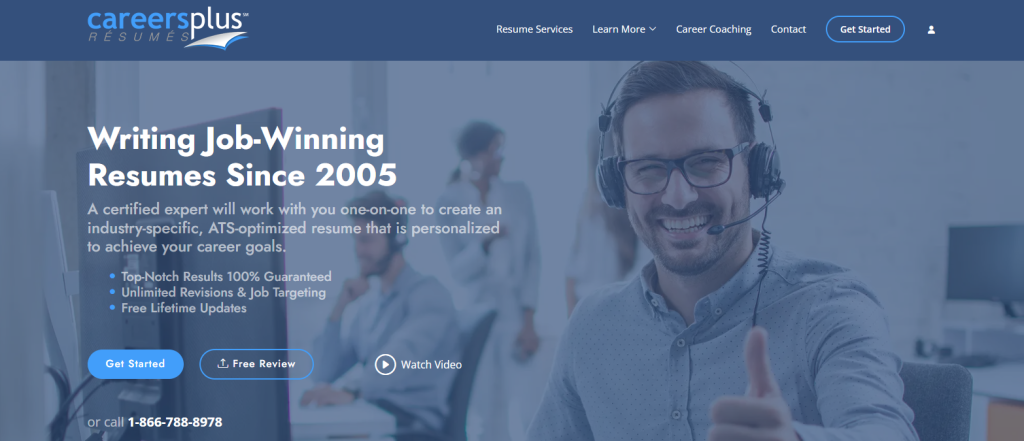 Aside from the missing physical address, Careers Plus Resumes' website is one of the most transparent sites reviewed up to date. From the certificates to its detailed company profile, Resume Plus is simply ready to flaunt its credentials.
Likewise, the site is functional and modern. It also offers free resume review to help you check your resume and find out how to improve your tool.
Perks: Establishing quality for clients, this resume firm boasts of its industry-specific certified writers, ATS-ready and keyword-optimized resume samples, unlimited revision options, and lifetime file access.
Fails: While we are impressed with the deals offered, their writing services are not apparent right away. We understand that clients may check the quality of the brand before they purchase, yet too much info may get them sidetracked.
Delivery Time: 1 to 2 days
Price Range: $99 to $229
Contact: 1 (866) 788-8978
Reviews: 4.5/5 BBB Rating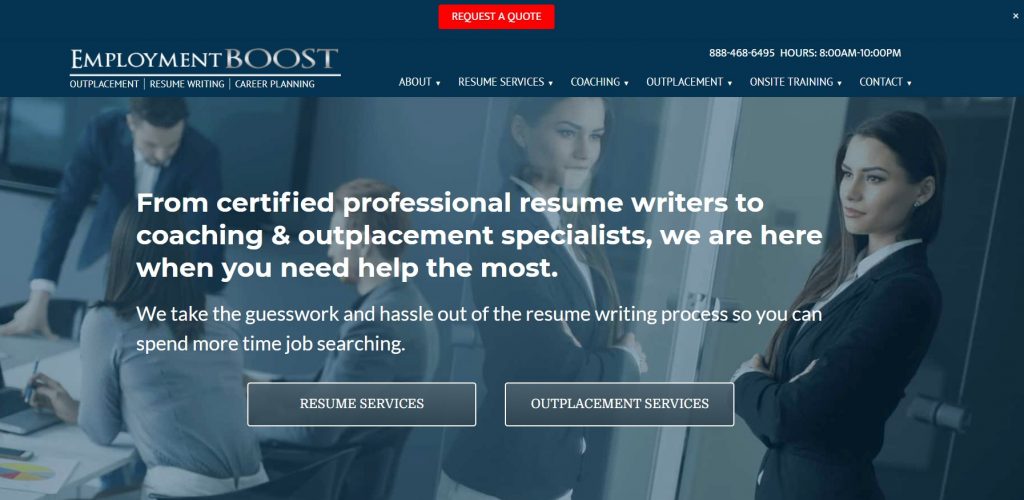 Employment Boost believes that its services extend far beyond its rivals. Likewise, it takes pride in ensuring the resume you get from them works! They know the hiring game and they're confident that they don't need to rewrite your tool because it works.
Perks: In terms of pricing and delivery system, this resume firm and its packages come with great deals and reasonable costs. It has targeted resumes per industry, city, and state. They even guarantee that you can receive your initial draft within a week!
Fails: However, Employment Boost falls back on the specifics of the delivery time. When would be the specific day of the week will your resume be delivered? You would also pay more if you need it earlier than what they promised.
Delivery Time: Standard is to send the first draft within a week. They also offer rush services with additional fees.
Price Range: $259 to $479
Contact: 888-468-6495
Reviews: 5/5 on Yelp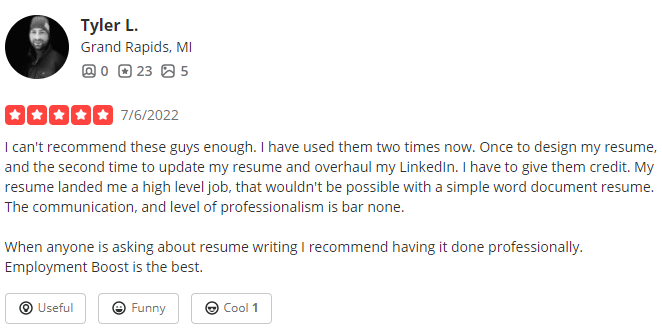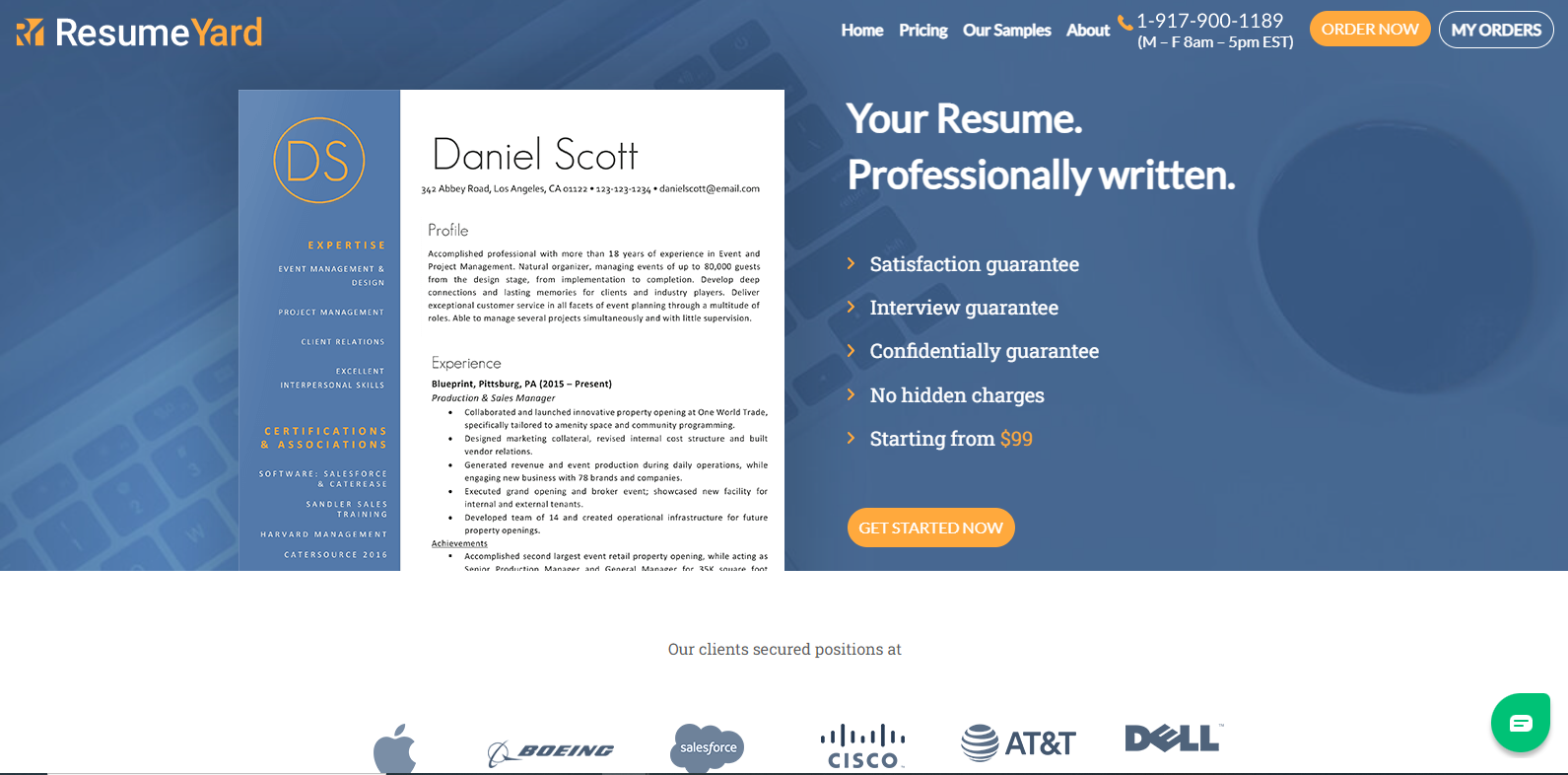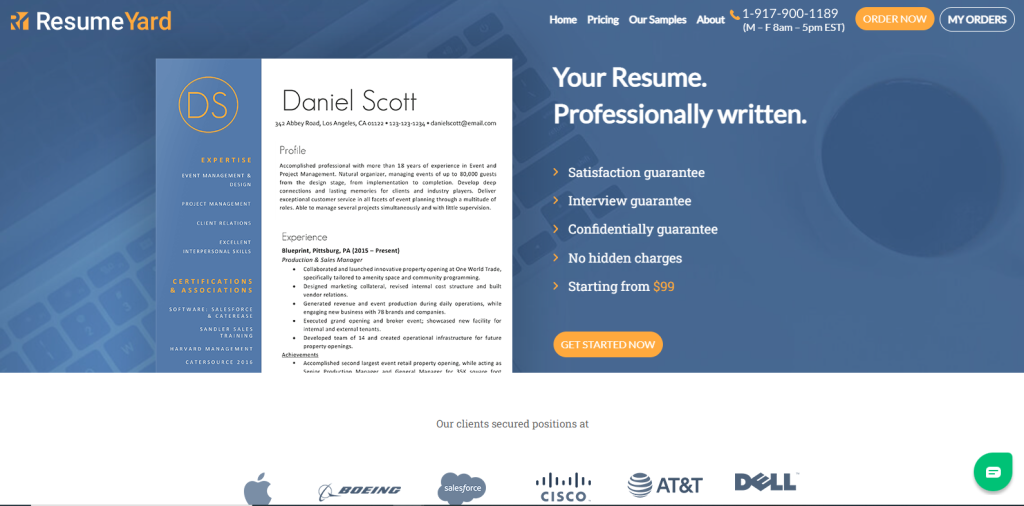 Looking for a federal resume writer to fit your tight budget? Then Resume Yard could be the one for you.
It offers the cheapest resumes to date within its 14-day delivery time. It also comes with freebies and discounts.
The website gives most of the data you need, from the order procedure to the specific rates for each service and deal you want to avail.
Perks: If you're in a tight budget yet in need of quality resumes, you'll appreciate the prices this resume firm offers. It also offers options for delivery time. The longer the time, the cheaper the price—a good catch if you're not in a hurry.
Fails: A quick check on their payment options reveals that they take credit card payments. However, other methods are, as of time of writing, not yet available.
Delivery Time: Your discretion. Choose from 1 to 14 days.
Price Range: $80.95 to $355.30
Contact: 1 657 295 8542
Reviews: N/A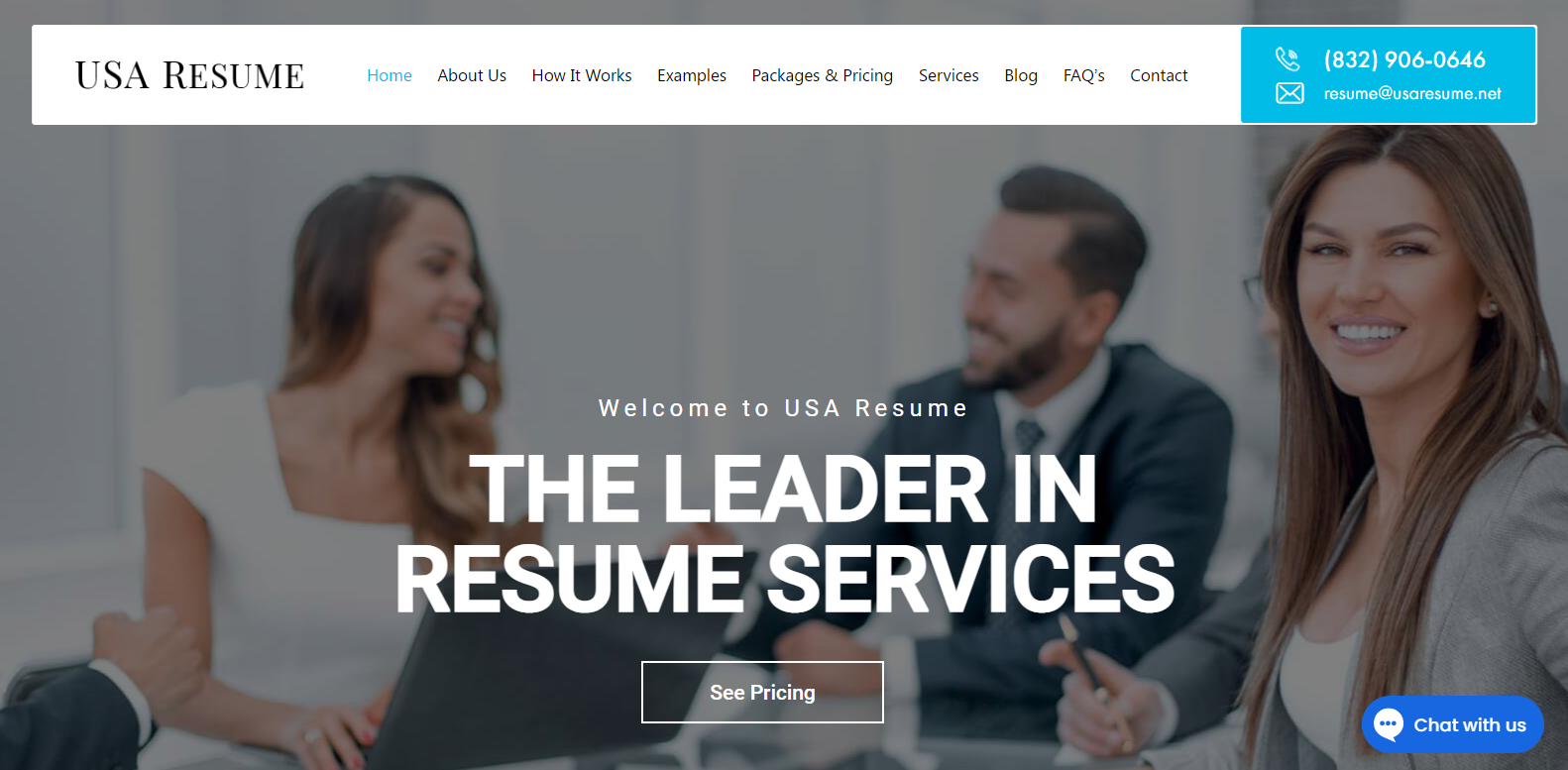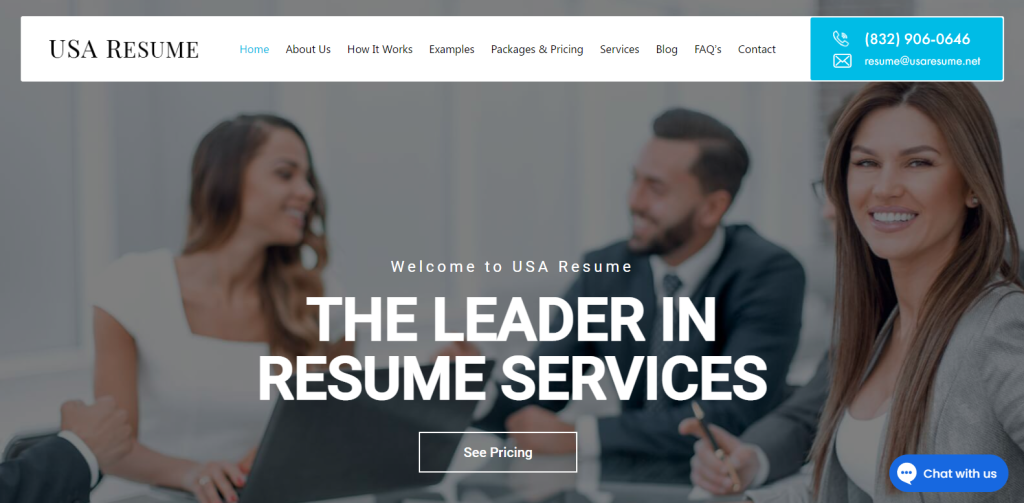 If you're looking for a homegrown government application writing services, USA Resume is waving at you!
Aside from the career coaches on its roster, it also flaunts its writers' extensive background in industry-specific resumes. They take pride that they are certified and based in the country.
It also features ATS-friendly resumes with optimized keywords.
Perks: They have multiple office locations throughout Texas. In terms of payment system, you can use major credit or debit cards.
Fails: While local job seekers can visit their various offices in Texas, it's unclear whether they accept cash as mode of payment. Moreover, once you decide to proceed, they would redirect you to a third-party website to collect your initial data. Some clients who are strict with giving their details online may be reluctant to give pertinent data.
Delivery Time: 3 to 5 business days
Price Range: Writing service cost ranges from $309 to $458
Contact: (832) 906-0646
Reviews: 5/5 on BBB



Resume Writer Direct, taking pride in its 11 years in staffing, helps job seekers use their skill to land their dream job. It offers a variety of services which include application document writing.
Perks: You can choose from three packages with service costs that match your needs. In terms of customer service, they promise unlimited phone support. Try their live chat, too!
Fails: For those who want to receive the initial draft of their resume within a day, this firm is not for you. They also don't offer rush services as of this writing.
Delivery Time: 3 days
Price Range: $169 to $287
Contact: 866-706-0973
Reviews: 4.5 on TrustPilot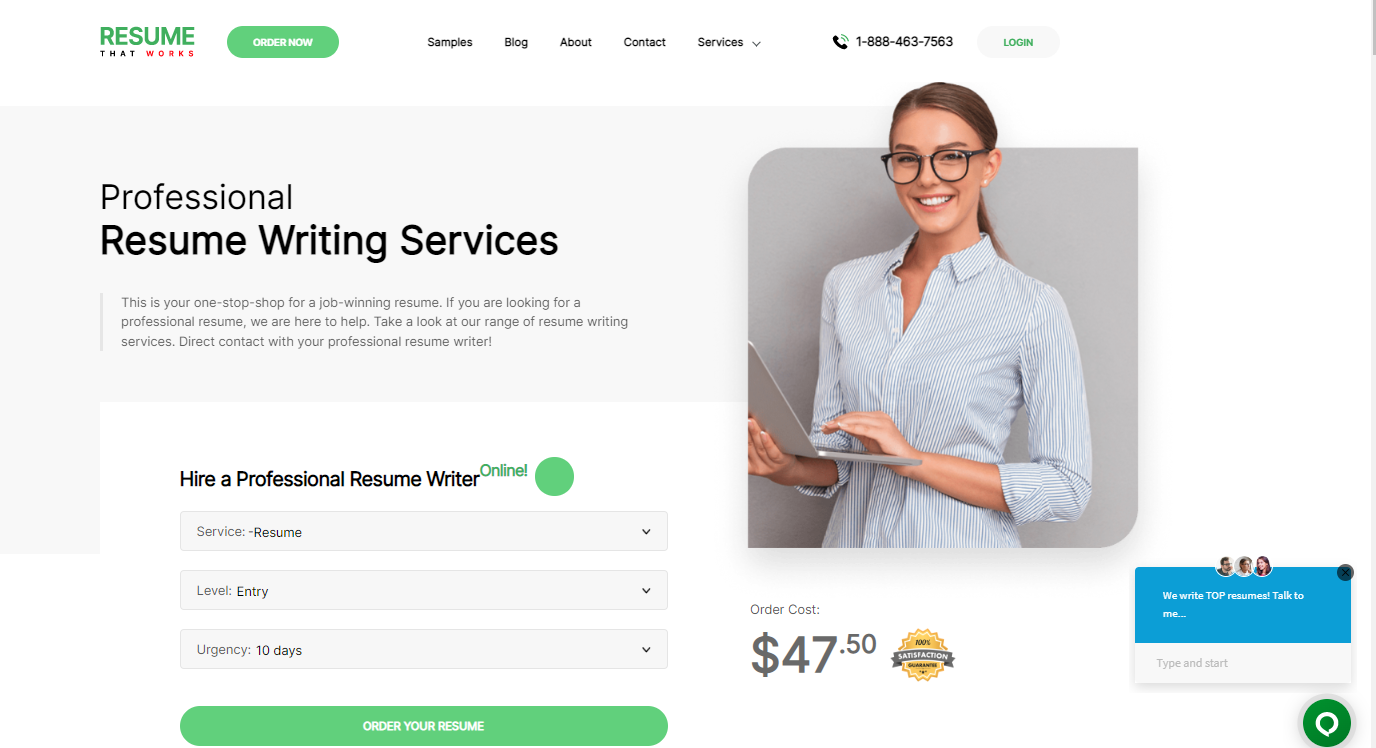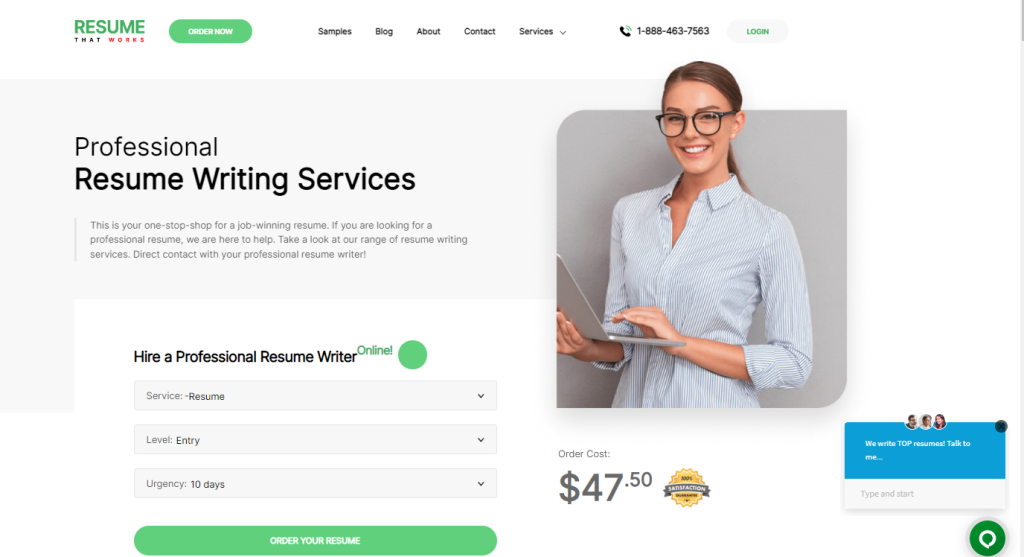 This New York-based firm claims to deliver a resume that puts you ahead of your rivals. With more than 25,000 job search tools under their belt, rest assured that Resume That Works values you.
Perks: Their customer support operates 24/7. You can choose from calling their hotline, sending an email, or even chatting with a representative.
Fails: Part of customer service is to establish trust. To do that, most clients turn to client reviews, or even in the social media presence of the brand. In line with this, they have no external reviews from known sites, and their social media is either inactive or missing.
Delivery Time: Standard delivery time is within 12 hours or as set. Rush services are also available.
Price Range: Its federal resume comes in various packages. You can add a cover letter, a LinkedIn profile, or other job search tools. Hence, the costs range from $47.5 to $421.44 as estimated.
Contact: 1-888-463-7563
Reviews: N/A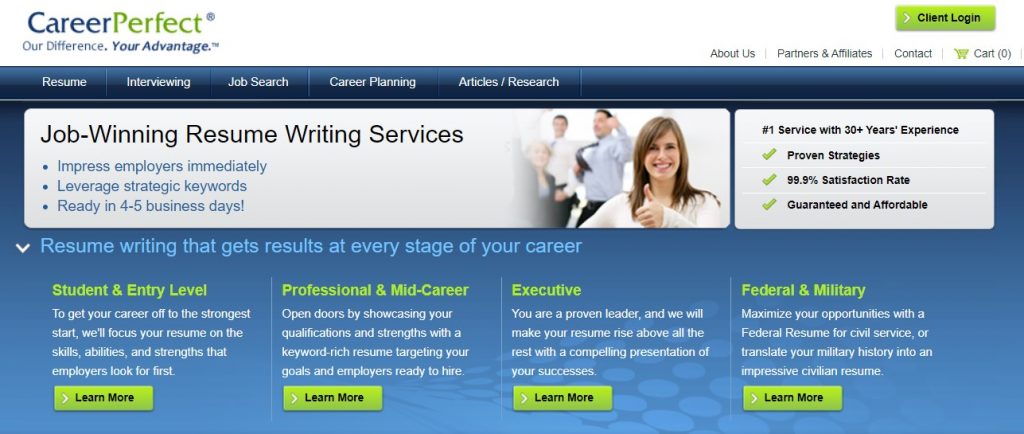 Want to work with a resume specialist for veterans? Try CareerPerfect. It started in online career services in 1996. With its lengthy career providing federal resume services, it says that no other resume firm could match its know-how in the business.
Perks: Career Perfect has developed their own software called SkillNet™ which clients use to send personal info for the resume writing process. Federal job seekers may see this as an advantage to further ensure the protection of their data.
Fails: However, they have limited ways on how a potential client can connect with them. While an inquiry form on the website is present, neither live chat nor an email address where you can contact them is available.
Delivery Time: 4 to 5 business days
Price Range: $349.95 to $499.95
Contact: 1-877-844-5724
Reviews: 3.2 on TrustPilot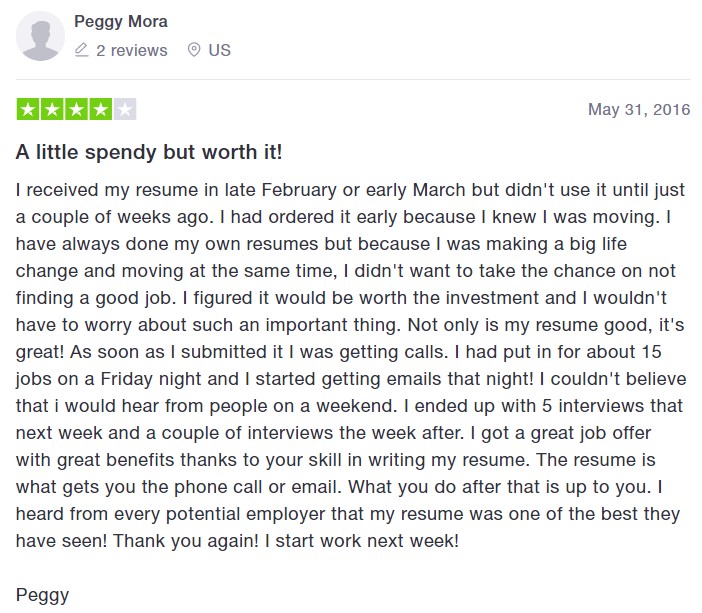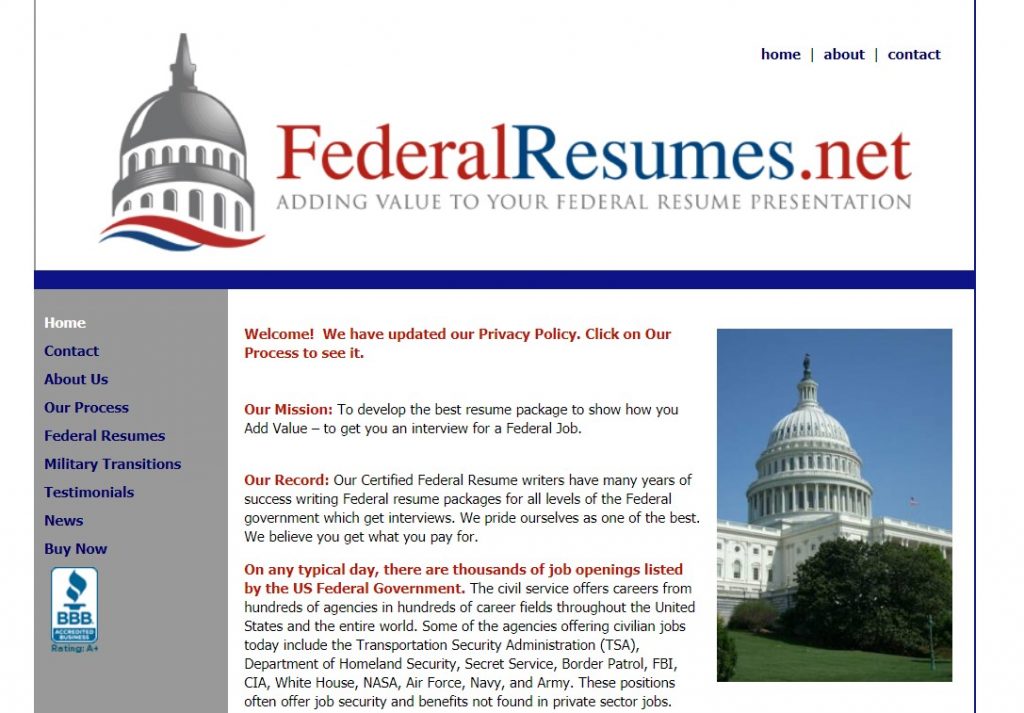 FederalResumes.net has only niche services. Since federal jobs dictate the type of work and requirements, this resume firm made it easy for you to choose which services to avail. Its goal is to give you the best resume package that highlights your value as a strong candidate.
With years of expert work experience, FederalResumes.net ensures the quality of its resume writing service. They claim to be one of the best firms to offer the best government writers. Want to check them out? Pay their website a visit.
Perks: If you're looking for proof that the firm can do the job, just check out how FederalResumes.net explains their process. Job seekers will appreciate its customer service effort to detail how to snag a federal job.
Fails: However, there's turnaround time stated in their website. You'll just learn it upon consultation.
Delivery Time: Upon consultation
Pricing: $395 to $3000
Contact: 404-380-1779
Reviews: 3.7 on Trustpilot
Hire the Right Federal Resume Writing Service This 2023
At Best 10 Resume Writers, we've already sorted the top-rated firms to provide you with a comprehensive guide. We take pride in giving unbiased reviews and don't plan to change that. We study and review each federal government service firm as a team. Likewise, we practice a credible and criteria-based method to filter only the best resume writers in your field and niche.
Aside from the top 10 professional federal resume firms, do you want to know other firms catering services to various industries? Check out our unbiased list of the best 10 resume writing services companies!