Well done! You're a few steps closer to landing a job. You're now preparing for your phone screening interview and you want nothing but to ace it. Job interviews, even those done over the phone, are tricky and nerve-racking. It's common for people to feel rattled and clueless. Since this is a key part of your job search, work on your edge to stand out among others.
Since you might be asked for a phone screen interview before meeting with the hiring manager, you must be armed with practical tips. Also, if you're applying for a remote role or any job needing a virtual hiring process, having a phone interview might be your only choice.
With that, use this blog as your guide to answer common phone interview questions more favorably and achieve your goal of landing the job.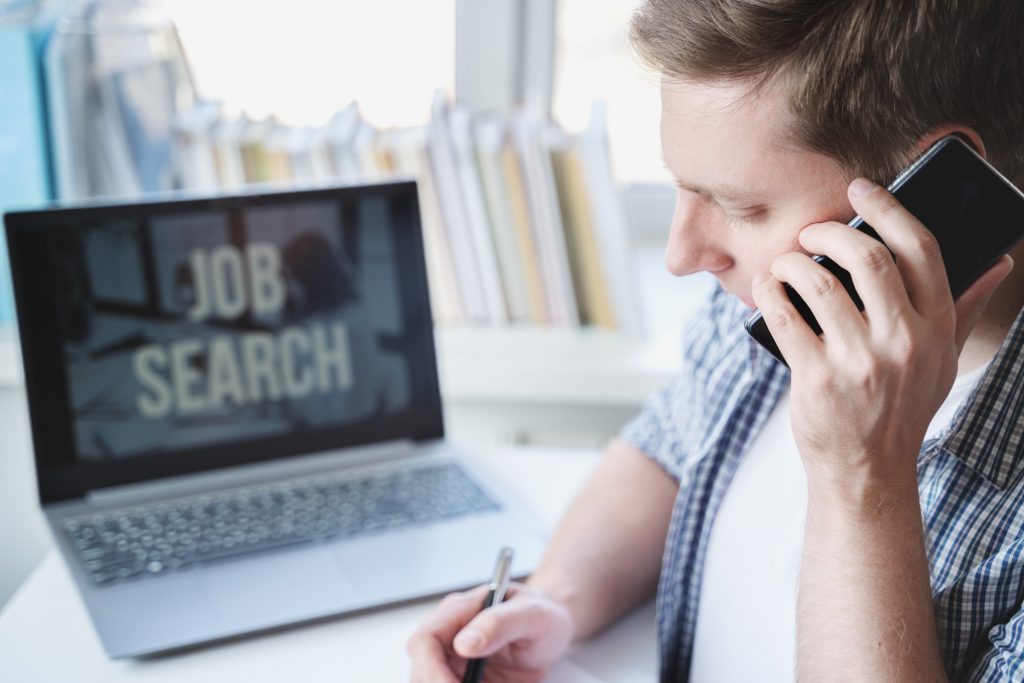 The Value of Phone Interviews in the Hiring Process
Employers use phone interviews as a less costly method to screen talents as compared to doing an in-person interview. Doing this can help them streamline their process as they source out for and hire talents.
Furthermore, the unprecedented effects of the worldwide pandemic paved the way for remote hiring, allowing safety measures to be observed while recruiters ask phone interview questions either over the phone or through videoconferencing.
This type of virtual interview can also bring light to new challenges for you. During a phone interview, you won't be able to rely on job interview body language if that's your way to build better rapport. Also, you can't re-read and re-construct your thoughts during a phone interview as compared to emailing back and forth.
Most Common Phone Interview Questions and Answers
Being prepared on how you'll craft a simple yet striking way to answer phone interview questions is the best approach you must use. Check these sets of questions and answers to guide you.
1. Tell me about yourself.
One common way most job seekers use to answer this is to share a list of their top job qualifications. However, this can get tricky and make you sound boastful or trying hard to prove them you're the one for the job and risk not building rapport with the interviewer.
Instead, be firm on how you'll describe yourself while being low-key about it. To help break the ice during a phone interview, state your interests and hobbies that aren't work-related:
Sports you're into
Activities that help represent your health and wellness routine
Ways how you spend your down time
Advocacies, movements, and other causes you support
Avoid saying:
"I don't have any interesting information to share about myself."
Extra guide: Check out these power words to describe yourself in your resume and to your target employers.
2. What are your strengths?
Talk about your skills and relevant experiences that are directly related to the job you're applying for. Prepare by reviewing the job ad and job description before you hop on the call, so you're aware of the job requirements.
Pinpoint your strengths through these:
Education and training
Soft skills
Hard skills
Technical skills
Work history
How you applied your skills into a specific work experience or achievement you've gained
Remember: The more your skills and experiences match those needed for the job post, the more likely you'll be considered for the role.
3. What is your greatest weakness?
No one's perfect, so it's normal to have weaknesses as a professional. However, among phone interview questions, this might cause you to stumble when you need to state a weakness that you have. You have various ways to answer.
First, you can tackle your weaknesses that don't directly affect or relate to the job you're aiming to land. Again, double-checking the job requirements is important. This tactic works because the weakness you mention doesn't pose a "direct threat" to your target job.
Another way is to point out skills you've improved. Simply, this lets you show the interviewer you're all for improving yourself as a professional. Avoid stating something that's crucial to the role you're applying for.
Avoid saying:
"I don't have one."
"Oh, my greatest one? I have so many."
4. Why do you want to work here?
One great tip is to ensure that your answer sounds more natural and sincere. Since you're in a phone interview, it may be tempting to read a script or an outline of your answer. Instead, deliver it with confidence without sounding too "rehearsed."
Relate your interest in landing the job to how it can help you grow as a professional. Likewise, state your insights on how you see this experience can help you contribute to the company through your skills and knowledge.
Avoid saying:
"I was informed you guys pay really well."
"I saw your job ad and thought I should give it a shot."
5. What are your salary expectations?
Research about what someone in your field usually earns so you'll be able to work out a feasible pay range for the job. This also lets you gauge if you're a good fit for the role based on your skills and background, and help you check what your pay expectations are.
6. What is your management style?
Heed these steps on how you can answer this question effectively:
Note the management styles of your past supervisors.
List the skills and traits of what makes you an ideal manager.
Check which management style you have.
State a practical example of when you used this style.
7. Describe your current job responsibilities.
Employers use this phone interview question to have an idea how your current or recent role and experience relates to the job opening. Upon further checking, this can help them find out if they can be hopeful about hiring you based on your credentials.
List down your duties, and highlight those related to the job requirements. This way, you're helping them grasp what you can possibly bring to the table.
8. Why should we hire you?
Prepare your tailor-fit answer by coming up with the top 3 to 4 reasons you're the great fit with solid descriptions and examples.
Craft a striking way of describing your top selling points by mixing these details:
Field experience
Skill sets
Key achievements
Awards and recognitions
Experience in specific tasks and duties
Avoid saying:
"You're looking for someone to fill the position, so you can consider me."
"Because if you don't, you'll regret it."
9. Do you have any questions?
This is your turn to ask phone interview questions yourself. Prepare general queries you can ask them about the role and the company. Also, be alert about certain touch points during the phone interview which you can use to formulate additional questions at the latter part of the call.
Avoid saying "No" or asking "How often do you give raises?"
Expert tip: Failing to ask questions is considered a lost opportunity for you to learn more about their company and their requirements for the role.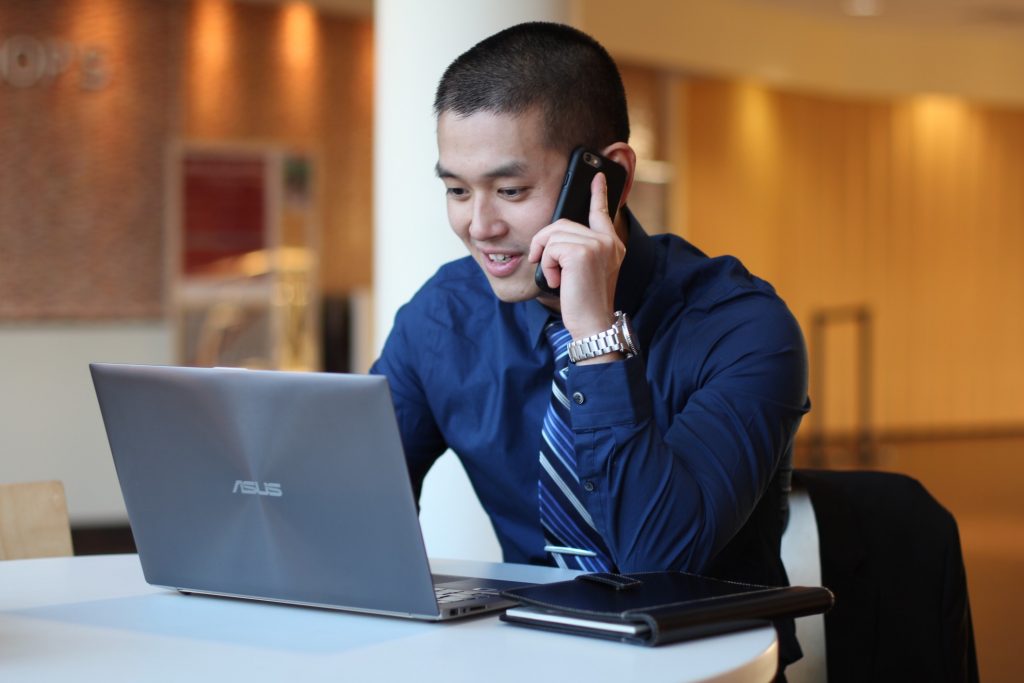 Tips to Answer Phone Interview Questions
Heed these job interview tips on how you can step up your phone interview game!
1. Acquaint yourself with the basics.
If you've studied the common phone interview questions listed above, then you're done with this first tip.
2. Be ready for job role-specific questions.
Review the job description before hopping on the phone interview. This lets you refresh your mind about the job requirements.
3. Observe proper etiquette.
Maintain professionalism even if you're not being interviewed face to face. The tone, pitch, and quality of your voice are crucial as these can affect the overall setup of the interview, so make sure you're mindful with how you speak.
4. Avoid saying these words during a phone interview.
There are certain words that can instantly kill your job prospect. Hence, compose your thoughts well and prepare ahead. Below are answers to phone interview questions you should avoid.
Words to Describe Yourself
Smart/Intelligent – It doesn't matter if you have an IQ of 130; you should not use it to describe yourself because this is something you want others to say about you.
Easy to Like – Your judgment isn't the same as others'. Use words like 'friendly', 'approachable', and 'amiable' instead.
Humble – Bragging about your humility seems ironic, don't you think? Instead, impress the interviewer with your accomplishments in a fact-filled way.
Obsessive – Though you mean well, this word gives off a negative impression. You can use the words 'hardworking', 'detail-oriented', and 'focused' instead.
Words with Negative Meaning
Fired – This word raises red flags, so you must avoid it at all costs. Terms like "let go" or "laid off" sound better and are more recommendable.
Hate – Don't ever use this word to describe your past employer or colleague. It doesn't inspire much confidence on how you'll be.
Sure – This word makes you sound like the only reason you're agreeing is because you don't have a choice. Avoid it.
No – You want to turn negative situations into a positive one. So, if you're telling a story about a time you had to say 'no' to something, just say "I wanted to say 'yes', but…"
Curse words – They don't sound good used in regular conversations, and it won't be appreciated during a job interview.
Fillers
Fillers make you sound unprofessional, nervous, and unfocused. They add no value to a conversation and must be removed from your vocabulary as much as possible.
Stuff
Kinda/Kind of
And whatnot
Um
Any
You don't want to be rejected for a job because you uttered the wrong word. Be composed and articulate at all times to show hiring managers how much of an asset you can be.
5. Practice!
You may ask a colleague, friend, or relative to arrange a simulation with you. While phone interview questions might be the same, the virtual interview setting differs from an in-person one. Thus, doing this can help you prepare for potential challenges that might occur.
6. Prepare your tools and area.
Ensure you're in a quiet, comfortable area where you can conduct the call. Also, prepare your equipment and other tools to help make the interview run smoothly.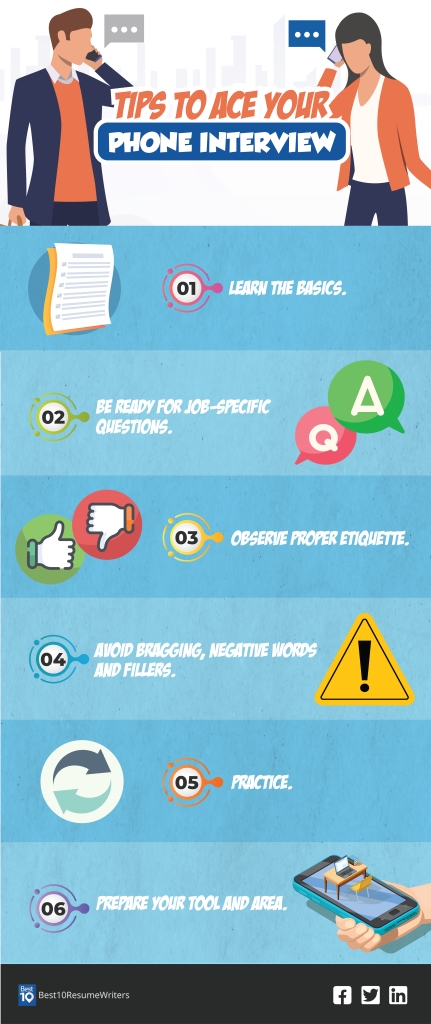 Download the Phone Interview Questions infographic now.
Phone Interview Questions to Ask the Interviewer
Now, what are some examples of what you can ask the interviewer? Here's a quick rundown of the phone interview questions you can ask in return:
How would you describe this role?
What qualities are you looking for in the person you aim to hire for this job?
What are the top expectations for this role?
Why are you hiring for this position?
How does a typical work week in your company look like?
Can you tell me more about your company culture?
What are the next steps after this interview?
Do you need more details about my background and qualifications?
Making the Best Impression
As the interview phase is a step closer to having you hired, leaving a good impression to the hiring manager or recruiter helps you maximize your chances of snagging the job. Heed the tips we mentioned above for your upcoming phone interviews, and practice how you can answer the most common phone interview questions so that you don't have to worry too much.
Even before you secure a job interview, your job application tools are important in your job search. How do you ensure you're armed with an effective resume? Read our best resume writing services reviews to find out who can help you tailor-fit your resume to your career goals.
Related Articles:
The Ultimate Guide to Acing a Dinner Interview Successfully
Smart Ways to Follow up during Your Job Application
How Career Shifters Should Answer Questions about Future Goals