Worcester may not be as well-known as its neighbor Boston, but the former is a city with a rich history and a vibrant present. With a population of over 200,000 and a diversified economy, this Worcester County's city has a lot to offer. However, with such a fast-growing population, competition for jobs can be fierce. Job seekers in this city need to stand out from the crowd, and one way to do that is by having a well-crafted resume.
As a result, many job seekers seek the assistance of professional resume writers to help them land their ideal job. But how can you tell which resume writer in Worcester, MA is the ideal for your needs when there are so many possibilities available? to assist you in making the best decision, we've reviewed and listed the finest resume writing services in Worcester, MA. Read on!
Review of the 10 Best Resume Writing Services in Worcester, MA

Resume Professional Writers is a well-known firm that offers resume writing services in Worcester, MA as well as other states. They have been producing industry-specific resumes and other career-related materials since 2000, care of an expert team of competent resume writers who have perfected the art of resume writing.
With their team's effective marketing skills, they are able to carefully outline your competencies, perfectly matching the requirements of numerous businesses. And with their expertise in delivering outstanding work, they claim to have consistently maintained an impressive score of 96% annual client satisfaction rate.
Perks: Together with basic job search tools, Resume Professional Writers also offers electronic resumes, cover letters, job interview guide, and reference pages. Furthermore, you'll also receive free resume review, free resume updates, and an unlimited number of edits for incomplete projects.
Fails: The firm doesn't operate during the weekends. Hence, if you want to use their service, make sure you plan everything out and finish any revisions before the weekends.
Delivery Time: You can receive the first draft of your resume in just 1 business day if you purchase the Ultimate package, 2 business days with their Premium package, and 3 business days with their Deluxe package. As of their Basic package, the resume will be delivered after 4 business days.
Price Range: Their service prices range from $125 to $485 depending on the package you choose.
Contact: 1 (877) 285-5492
Reviews: 4.4/5 on Trustpilot


ARC Resumes is a resume writing service company established in 2014 by resume writer and second-generation recruiting specialist Arlen Crawford. Since then, it has established a strong reputation for creating excellent resumes and assisting clients with job searches and interviews. They have also been acknowledged for their proficiency in communicating your experience and optimizing your career alternatives by carefully structured core competencies.
Perks: You'll get a CV that is well-written and can be easily read both by a human and an applicant tracking system (ATS). Also, they guarantee a 60-day interview.
Fails: More details are needed about the delivery times on the website. And speaking of details, the website also doesn't provide any resume samples for you to look through.
Delivery Time: There is no defined delivery time. The job will be delivered and completed on time, as agreed upon by both the client and writer.
Price Range: Their service prices start at $197 to $397.
Contact: 1 (770) 692-3189
Reviews: 4.1/5 on Trustpilot


Resume Prime is another top provider of high-quality resumes and other job search tools in Worcester, MA and other parts of the country. By entrusting your job search needs to this resume writer in Worcester, your resume and other job search documents can pass the ATS and impress hiring managers. Plus, your LinkedIn profile will even widen your connections.
Perks: They have a speedy turnaround time without losing quality at a cheap price. They also brag of high-quality resumes and CVs for C-level roles.
Fails: It is difficult to contact their writers or customer care because there is no availability or business hours information on their website.
Delivery Time: You may expect to receive your resume within three (3) business days, regardless of the service package you choose.
Price Range: They charge anywhere between $190 and $330 for their resume writing services.
Contact: 1 (888) 846-9272
Reviews: 3.6/5 on Trustpilot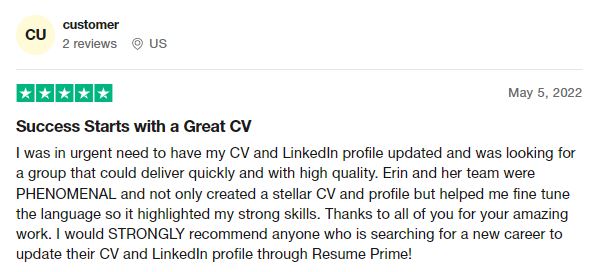 Since 2005, Same Day Resume has been one of the top resume writing services in Worcester, MA. They have an excellent team that specializes in providing professional resume writing services for their clients' varying needs. By delivering outstanding resumes and cover letters, they are also able to assist thousands of job seekers in gaining interviews and ultimately landing their ideal job.
Perks: Following the delivery of your resume, you will have three weeks of free revisions. Also, they provide a 100% money-back satisfaction guarantee.
Fails: There are no resume samples on the website. Also, the certificates and qualifications of the CV writers are not stated.
Delivery Time: Depending on the product, you can anticipate your resume in 3-5 business days. If you are in a hurry, you can also get your resume delivered the same day.
Price Range: Their service offering starts from $300 to $499.
Contact: 1 (857) 919-8000
Reviews: 5/5 on Yelp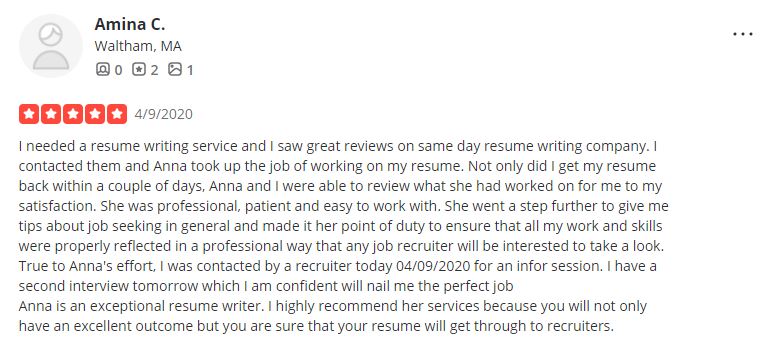 Resume Valley is one of the best firms that provides low-cost resume writing services in Worcester, MA. Although their services are confined to LinkedIn profile optimization, CV, and resume writing, this company promises you the best career outcomes across a wide range of industries.
Perks: Their resume packages are one of the most reasonably priced options available in the market.
Fails: The organization only offers a limited number of services, which are limited to creating resumes, CVs, and LinkedIn profiles.
Delivery Time: You can expect your first draft in five (5) business days.
Price Range: Starts at $69 to $99
Contact: 1 (877) 780-7377
Reviews: 4.1/5 on Trustpilot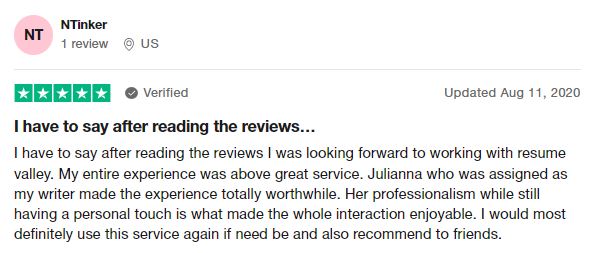 Resumes Plus is a Massachusetts-based resume writing service founded by Bea Hait. With 30 years of experience writing resumes, Bea has mastered the skill of highlighting a person's qualifications and accomplishments while putting them in a format that invites a hiring authority to read the entire document, improving many job seekers chances of being called for an interview.
Perks: You'll be working directly with Bea who is a Certified Professional Resume Writer (CPRW) and Nationally Certified Resume Writer (NCRW).
Fails: A package cannot be bought straight from the website. To get a quote and start the procedure, you must get in touch with the firm. Also, the website lacks any examples of resumes.
Delivery Time: You will receive the first draft of your resume 4 to 5 business days after purchase.
Price Range: A certified résumé writer and customized keyword résumé fees start at $340.
Contact: 1 (508) 429-1813
Reviews: 5/5 on 1 Yelp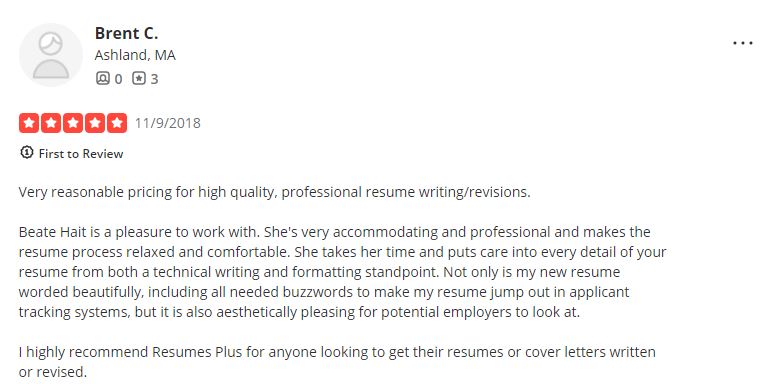 ResumeBuilderr is resume writing services in Worcester, MA that satisfied many applicants and professionals with their outstanding services and high-quality product. Their team of experts focuses on helping their clients land their dream job by creating well-crafted resumes that present your career in a professional way.
Perks: You'll receive an expertly written and keyword-optimized resume. You can also have multiple drafts and revisions throughout the time frame until you get the best resume.
Fails: Their 60-day interview guarantee offer is only limited with the Executive Priority package. Plus, turnaround time and contact details are not available on the website. You'll need to complete their online form or email and wait for 24 hours to answer your inquiry.
Delivery Time: Not stated on the website.
Price Range: You can avail of their services that ranges from $149 to $349.
Contact: [email protected]
Reviews: 4.3/5 on Trustpilot


Abby Locke is an independent resume writing firm founded by Abby Locke, an experienced career marketer and resume writer in Worcester, MA. This firm has successfully helped many job seekers craft dynamic executive brands and powerful resumes that present themselves competitively both on paper and online. Apart from writing resumes, the firm is also known for delivering distinctive career marketing solutions for global professionals, leaders, and executives from top Fortune 500 companies.
Perks: You will be given a personal brand that will highlight your professional accomplishments and value proposition, allowing you to stand out as a top candidate.
Fails: Their website does not include a turnaround time or contact information. Their service packages are also overpriced in comparison to the other service providers on this list, and they lack ratings from trustworthy resume writing service review sites.
Delivery Time: Not indicated on their website, but can be discussed with Abby during your discovery time.
Price Range: Their resume service prices start at $1,695 to $5,495.
Contact: Not available.
Reviews: Not available.

ResumeZest is a well-rounded resume writing service in Worcester, MA that is trusted by Fortune 500 professionals. They have reasonable prices and rapid turnaround times. Their resume writing team has years of successful experience in creating resumes for over 75 different sectors. They are also recognized for delivering and maintaining outstanding customer service.
Perks: The resume you will receive is backed by a 60-day interview guarantee. Also, the resume is keyword optimized and ATS compatible.
Fails: Despite the fact that they do excellent work and have authors with years of experience, the business was only established in 2020.
Delivery Time: Your resume draft will be ready in three to five business days. Nonetheless, it is possible to accelerate delivery to two business days for an extra fee.
Price Range: $279 – $479
Contact: 1 (888) 530-4911
Reviews: 4.9/5 on Trustpilot; 5/5 on Yelp; 4.8/5 on 68 Sitejabber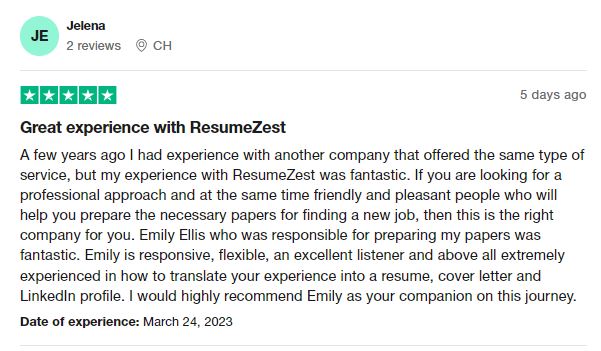 New England Resumes is a firm founded by Mir Garvy. The company has consistently delivered first-rate resume writing services in Worcester, MA and other places ever since its founding in 2009. Aside from resume writing, the firm also offers solid packages that include a cover letter and LinkedIn makeovers, or CV writing for academics.
Perks: There are several packages to choose from, including a special CV package for academics. All of the resume packages include a cover letter and LinkedIn makeover. You can also see the quality of their work on the resume sample page.
Fails: There are no clearly defined rates, and the company offers no satisfaction guarantees, which may put off many potential customers.
Delivery Time: You can anticipate the initial draft in five business days.
Price Range: Start at $350,
Contact: 1 (617) 383-7176
Reviews: 5/5 on Yelp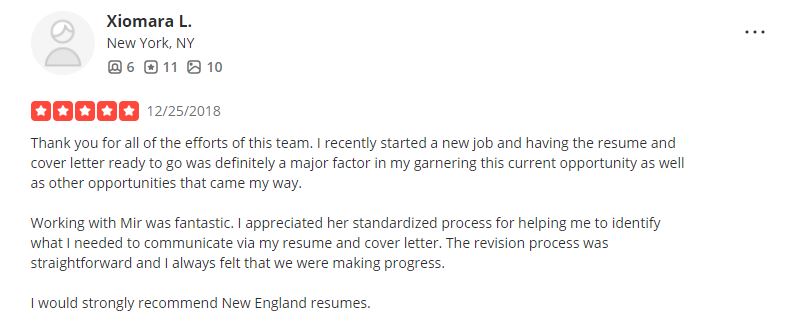 Let the Best Resume Writing Service Providers Tailor Your Resume
Many job seekers have difficulty creating their resumes. If you are one of them seeking professional assistance for your job search needs, we strongly advise that you consider hiring one of these 10 resume writing services in Worcester, MA. With their help, you'll be able to write a resume that showcases your abilities and experience, which will allow you to make a great first impression on potential employers and land a job more quickly.